Our Services
Local/domestic Moving
Import and Export Transportation (CFS & CY)
Piano Moving
International Relocation (door to door moving service)
Office/factory Moving
Professional Packing Service
Express Service
Warehousing and Storage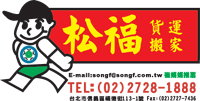 About Us
SF Moving & Trucking Ltd. was established since 1983. We are licensed and recommended by Taiwan TSUE MA MA Foundation –well known foundation for monitoring quality moving. Our movers are professional trained and we have more than 50 trucks to offer various moving and trucking (Full load or LTL freight) works. With 26 years moving and trucking experiences, you can rest assured when we take care of your shipment or move.
Integrity, Reliability, Sincerity
We focus on providing high efficiency and quality service- Packing, Moving and Trucking. Our work duty and rates are clearly listed in the quote. Our dedicated performance has resulted in word-of-mouth advertising to attract many more customers from all areas. We will do everything we can to meet our customers expectation.